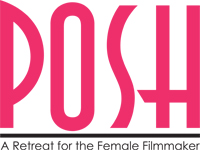 POSH A Retreat For The Female Filmmaker
Via: www.PoshEventOnline.com "POSH is a retreat and educational experience for women event filmmakers and photographers interested in event film. Our mission for POSH is education + inspiration + relaxation so our retreat is taking place on a 4 night Royal Caribbean cruise to the Bahamas, November 8-12, 2010. A one day workshop during the cruise features presenters Kristen* of Bliss* Productions and Tasra Dawson of Dare Dreamer Media. There will also be a shoot in the Bahamas and some refreshing fun! POSH 2010 is reserved for only 40 women so register soon before this unique retreat is sold out!" – Founded by Jennifer Moon of Northernlight Filmworks and Reagan Zugelter of Studio Z Films.
This originally appeared on POSH 3/31/10. You can visit the article online, here.
Meg was born and raised in North Conway, NH a small resort town that survives off tourism. Fast forward to the age of 16 when her town welcomed Resort Sports Network (RSN) a local TV station providing info on where to shop, dine, and have fun in our area. They needed a paid intern, and somehow Meg went from entering community events and running cameras to hosting the 2 hour live show they did every Saturday and Sunday morning! She has now been hosting for 15 years! Meg thinks being thrown to the wolves hosting a live TV show at a young age, where they interviewed three guests per show really helped her become a good in the moment interviewer, which now helps her capture the story on a wedding day. Meg has always been genuinely curious about pretty much everyone and everything she comes in contact with, so it all became a natural fit.
After traveling around the world, she kept coming back to the Mount Washington Valley (her roots) and decided to set up camp there. It's an amazing place to be if you love the outdoors. She filmed her first wedding August 5, 2000, and her website megsimone.com followed soon after. Meg shot a handful of weddings each year in addition to 2nd shooting for a local still photographer (when they still shot FILM). Business started to fly in 2005 just when she went into selling Real Estate and soon realized that the wedding business could be something, if she just put 100% of her time to it. Meg was completely full time weddings by July 2008. Meg says, "Life has been absolutely amazing since! It's unreal what happens when 100% of your mental focus goes towards something (sigh!)"
What inspires Meg:
#1 People and their stories. #2 other filmmakers, photographers, and events like ReFrame and IN[FOCUS] "my attendance at both of those completely revolutionized by business, and that's why I'm excited to attend POSH. I hate to think were I would be now without attending and continuing my education in this industry!