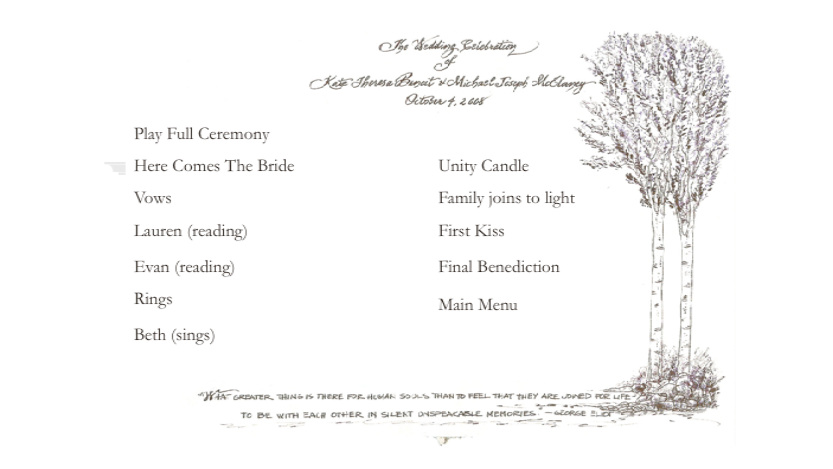 NH Wedding Video
Wedding Videos are such a keepsake, and I try to personalize them as much as possible. I loved how Kate and Mike's wedding program was artfully designed by Kate's Aunt. Everyone at the wedding kept analyzing the programs trying to figure out how they were drawn. I was so excited because it gave me perfect DVD Menu Options. I always try to incorporate items from your wedding into the menus or graphics in your video – these happened to be particularly unique and creative so I wanted to share.
Kate & Mike: October 4, 2008 at Church Landing – Meredith, NH
The First Response:
Just…..WOW. Meg, you are truly an artiste, my dear. The video is nothing short of incredible. The way you tied the music in, the background voices, the split scenes, the interviews….amazing! We've all been crying & laughing for two days watching & re-watching it over & over! What a gift you have.  I cannot believe the moments you captured so perfectly–you've created the most amazing memories for us and we will have them forever. Even better than the way we remembered it all in our heads. I feel like I am saying the same thing over & over but we're still just blown away by it & I am overwhelmed with excitement and emotion!!!  I will probably be sending you a bazillion more emails just raving about how talented you are & how grateful we are to you for capturing our day so perfectly. THANK YOU!!!
A few days later:
Oh my gosh, Meg!  I still just can't get over how gifted & creative you are.   Your video makes it seem like this amazingly unique  & romantic movie that no one has ever seen before!!  We have watched it like 50 times!!!