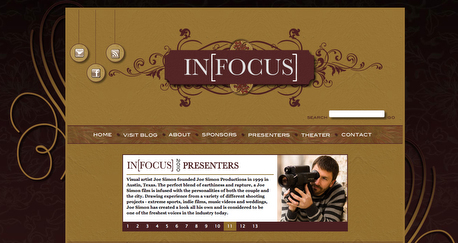 IN[FOCUS] 2010: Austin, TX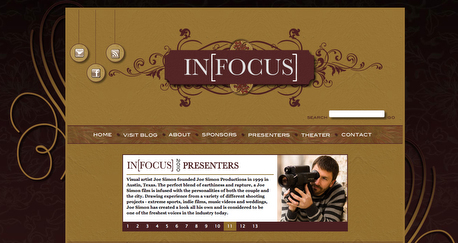 I return for the 3rd time this year to Austin, TX. The first was back in April for the overly inspiring ReFrame event. I swear my head is still exploding with knowledge and info I learned then!  I'm not sure how I'm going to fit in more, but I just can't get enough when it comes to continuing education.  I drove through Austin in December when I picked up the latest addition to the wedding line up, a fully mobile editing studio (and no, I don't offer Same Day Edits yet, but this van would allow me to in the future). Finally I'm back the 17-20th for IN[FOCUS] which is loaded with filmmakers and industry professionals I've been itching to see. Who are some of the presenters and sources of inspiration?
Humanstory Films, Mason Jar Films,  Still Motion, Joe Simon Film, VonWedding Films, Vantage Point, Ray Roman Films, Ron + Tasra Dawson of Dare Dreamer Media and authors of "ReFocus: Cutting Edge Strategies to Evolve Your Video Business," Blue Skies Cinema, Cinematic Bride, Studio Vieux Carre, David Perry Films, Life Stage Films, and Red 5 Studios. Not to mention I get to catch up with ReFrame alumni like my roomie Stepheny Keith, owner of Black Sheep Video Productions (you MUST watch her trailers – you have never seen anything like it before!) and spend time talking "local" shop with Whit Wales of Wales Films, based in MA.  I can't wait to be inspired and bring back more knowledge to continue and transform and grow things here! Look out, it just keeps getting better and better!