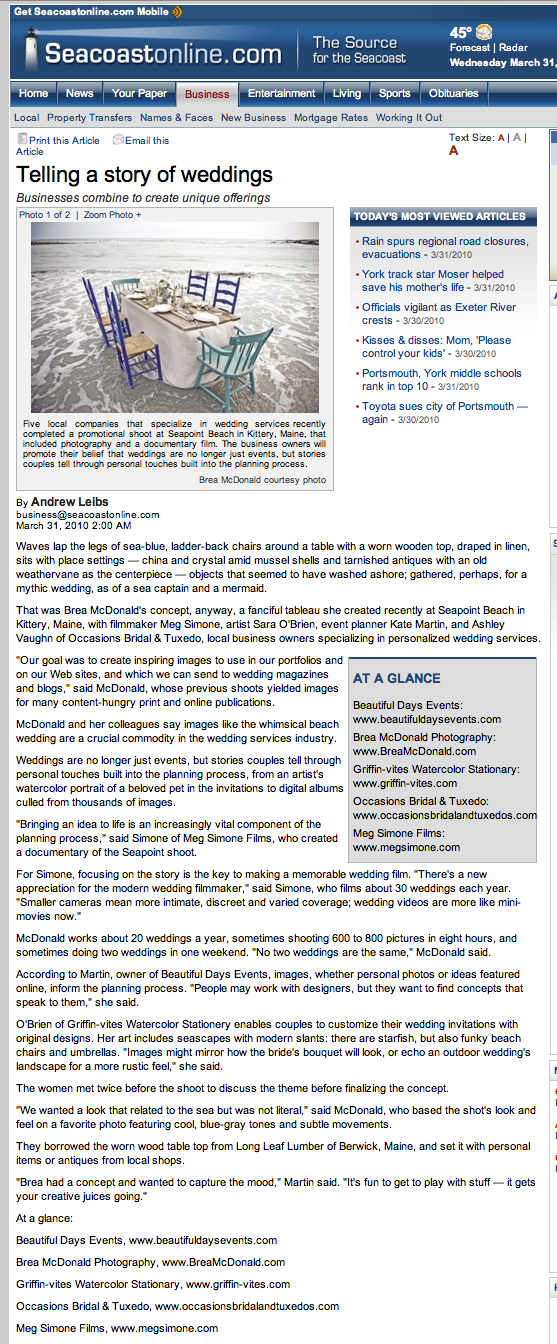 Meg Simone Films Featured in The Portsmouth Press Herald
Telling a story of weddings: Businesses combine to create unique offerings.

Five local companies that specialize in wedding services recently completed a promotional shoot at Seapoint Beach in Kittery, Maine, that included photography and a documentary film. The business owners will promote their belief that weddings are no longer just events, but stories couples tell through personal touches built into the planning process.
Story By Andrew Leibs
Brea McDonald courtesy photo
This story first ran March 31, 2010 in the Portsmouth Press Herald.
Waves lap the legs of sea-blue, ladder-back chairs around a table with a worn wooden top, draped in linen, sits with place settings — china and crystal amid mussel shells and tarnished antiques with an old weathervane as the centerpiece — objects that seemed to have washed ashore; gathered, perhaps, for a mythic wedding, as of a sea captain and a mermaid.
That was Brea McDonald's concept, anyway, a fanciful tableau she created recently at Seapoint Beach in Kittery, Maine, with filmmaker Meg Simone, artist Sara O'Brien, event planner Kate Martin, and Ashley Vaughn of Occasions Bridal & Tuxedo, local business owners specializing in personalized wedding services.
"Our goal was to create inspiring images to use in our portfolios and on our Web sites, and which we can send to wedding magazines and blogs," said McDonald, whose previous shoots yielded images for many content-hungry print and online publications.
McDonald and her colleagues say images like the whimsical beach wedding are a crucial commodity in the wedding services industry.
Weddings are no longer just events, but stories couples tell through personal touches built into the planning process, from an artist's watercolor portrait of a beloved pet in the invitations to digital albums culled from thousands of images.
"Bringing an idea to life is an increasingly vital component of the planning process," said Simone of Meg Simone Films, who created a documentary of the Seapoint shoot.
For Simone, focusing on the story is the key to making a memorable wedding film. "There's a new appreciation for the modern wedding filmmaker," said Simone, who films about 30 weddings each year. "Smaller cameras mean more intimate, discreet and varied coverage; wedding videos are more like mini-movies now."
McDonald works about 20 weddings a year, sometimes shooting 600 to 800 pictures in eight hours, and sometimes doing two weddings in one weekend. "No two weddings are the same," McDonald said.
According to Martin, owner of Beautiful Days Events, images, whether personal photos or ideas featured online, inform the planning process. "People may work with designers, but they want to find concepts that speak to them," she said.
O'Brien of Griffin-vites Watercolor Stationery enables couples to customize their wedding invitations with original designs. Her art includes seascapes with modern slants: there are starfish, but also funky beach chairs and umbrellas. "Images might mirror how the bride's bouquet will look, or echo an outdoor wedding's landscape for a more rustic feel," she said.
The women met twice before the shoot to discuss the theme before finalizing the concept.
"We wanted a look that related to the sea but was not literal," said McDonald, who based the shot's look and feel on a favorite photo featuring cool, blue-gray tones and subtle movements.
They borrowed the worn wood table top from Long Leaf Lumber of Berwick, Maine, and set it with personal items or antiques from local shops.
"Brea had a concept and wanted to capture the mood," Martin said. "It's fun to get to play with stuff — it gets your creative juices going."
At a glance:
Beautiful Days Events, www.beautifuldaysevents.com
Brea McDonald Photography, www.BreaMcDonald.com
Griffin-vites Watercolor Stationary, www.griffin-vites.com
Occasions Bridal & Tuxedo, www.occasionsbridalandtuxedos.com
Meg Simone Films, blog.megsimone.com