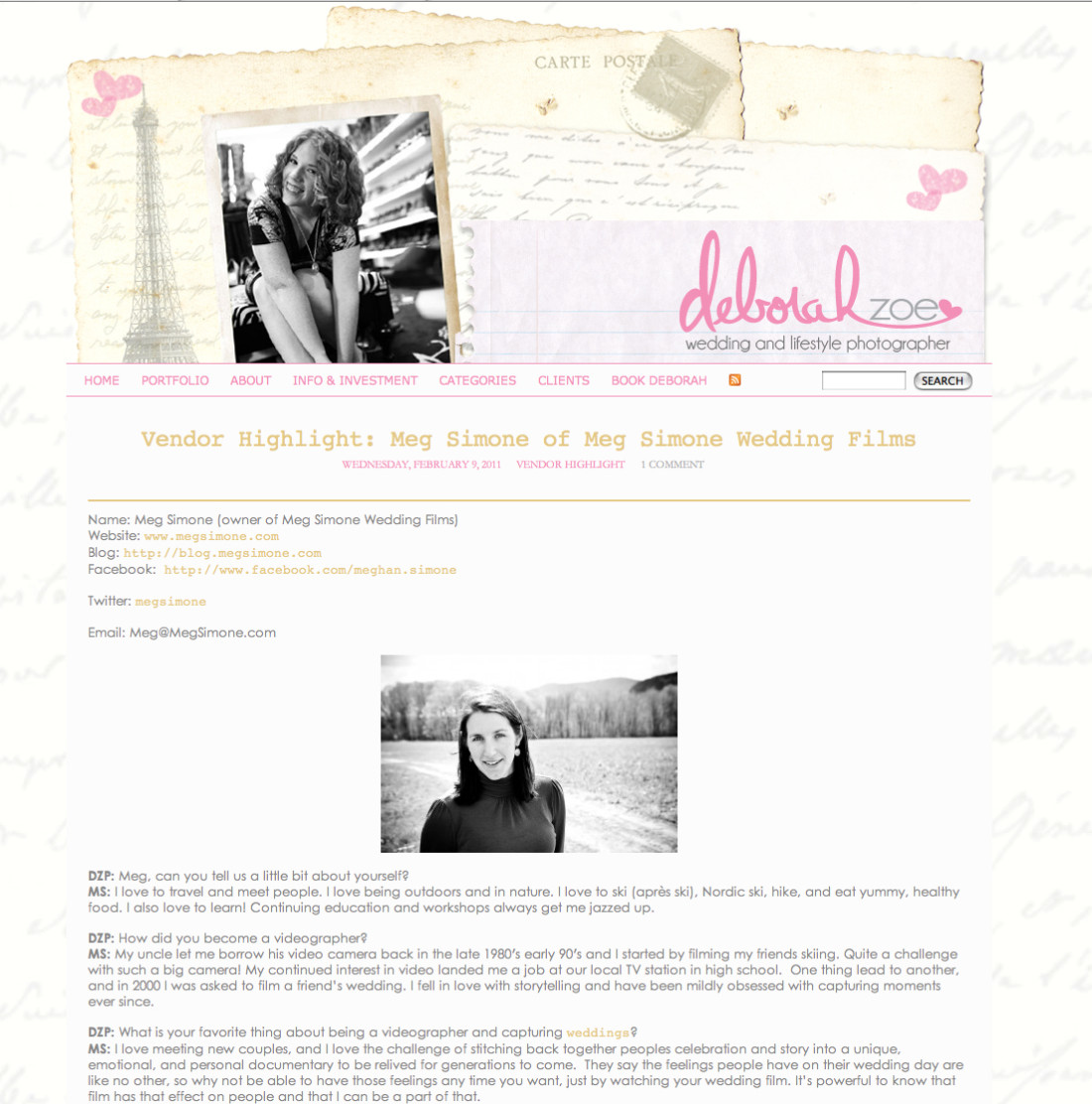 Featured On: New England Wedding and Lifestyle Photographer Deborah Zoe's Blog
Deborah Zoe of Deborah Zoe Photography is a love! Not only is she super fun and extremely talented, she also put me in touch with designer extraordinaire Tara Peterson of Stupendous Designs to create a brand for NH Elopements! Deb featured me on her blog last week, and answering her questions was so reflective, I wanted to share. Thanks Deb!
DZP: Meg, can you tell us a little bit about yourself?
MS: I love to travel and meet people. I love being outdoors and in nature. I love to ski (après ski), Nordic ski, hike, and eat yummy, healthy food. I also love to learn! Continuing education and workshops always get me jazzed up.
DZP: How did you become a videographer?
MS: My uncle let me borrow his video camera back in the late 1980′s early 90′s and I started by filming my friends skiing. Quite a challenge with such a big camera! My continued interest in video landed me a job at our local TV station in high school.  One thing lead to another, and in 2000 I was asked to film a friend's wedding. I fell in love with storytelling and have been mildly obsessed with capturing moments ever since.
DZP: What is your favorite thing about being a videographer and capturing weddings?
MS: I love meeting new couples, and I love the challenge of stitching back together peoples celebration and story into a unique, emotional, and personal documentary to be relived for generations to come.  They say the feelings people have on their wedding day are like no other, so why not be able to have those feelings any time you want, just by watching your wedding film. It's powerful to know that film has that effect on people and that I can be a part of that.
DZP: Do you have a favorite moment to capture during the day?
MS: I love every moment because each wedding is so different. If I had to pick a favorite, it may be when a mother see's her son or a father sees his daughter dressed up for the first time. It really is one of the more emotional times of the day because this signals one of the biggest changes during a wedding. Parents realize their kids are definitely no longer kids, and that they truly have moved on to start a new chapter in life
DZP: How would you describe your style?
MS: Definitely documentary. Lots of storytelling. Home spun, relatable, natural, fun, realistic, engaging, organic.
DZP: Do you have any suggestions on how to pick your videographer?
MS: View various videographer's work. Make sure their style resonates with what you are looking for. There are people who do more of a cinematic music video style that's fun and fresh, and there are people who do a more traditional long form edit with all the days events and lots of recaps. Styles vary and personalities do to.  Make sure you like the person behind the camera. If you don't get a good vibe or feel at ease with that person you may not look back on your video with fondness. You want to LOVE your vendors, period. Having any awkward feelings on your wedding day is just unnecessary stress and avoidable since there are so many incredible filmmakers in New England to choose from.
DZP: Are there any ideas you can give to couples on how to get the most out of their experience with their videographer and wedding day?
MS: Let the professional do their job. Don't try to micro manage the film process or the professionals will be so busy abiding to your list of "must haves" that other equally or more important events may be missed. Weddings are a live event and very unpredictable. Trusting your vendors and their vision is paramount.
DZP: Anything else that you would like to add?
MS: Wedding films have evolved immensely over the last 5-10 years. Cameras are smaller, styles are fresher, this is not your stereotypical wedding "video!" Depending on the quality of the film, experience of the videographer, and what you are looking to have captured, be prepared to pay as much for video as you do for photography. Unfortunately many bridal websites have the video budget so low, it sets unrealistic expectations for couples, that they don't end up hiring someone because  they think they were outrageously priced, when come to find out, they may have been a steal in the first place.
DZP: Can you share with us some favorite wedding clips?
MS: Amanda and Vincent on Nantucket this past summer. Watching their day unfold was like watching a classic film. Everything was perfect right down to her laugh. http://blog.megsimone.com/nantucket-highlight-film-amanda-vincent/
Brooks and Liz – beyond fun these guys know how to party. Touching stories, lots of love, this is a must watch!
http://blog.megsimone.com/lake-winnipesaukee-wedding-brooks-liz/
Thanks so much for sharing with us Meg!