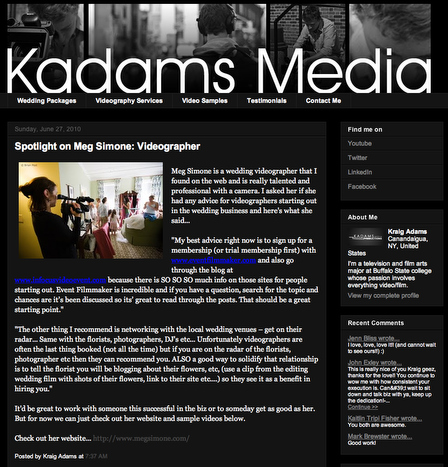 Upstate and Western New York Wedding Videographer Kraig Adams
It's always fun to get emails from filmmakers just entering the wedding business, especially when they are in areas that I've been looking for filmmakers in! Kraig Adams is a television and film arts major at Buffalo State college and is breaking into the wedding film business in Western, NY with a strong passion and desire to learn. I love this quote from his site:
"Video to me is more than a hobby, but less than an obsession, which makes it a passion. It is a passion that makes me spend a whole lunch period writing up a script for a video that I am planning. It is a passion that makes me buy videography magazines, read production guides, and watch online video tutorials about how to correctly execute a sweeping pan shot. One thing that I have realized when it comes to researching video production is that the more I learn, the more I want to know." – Kraig Adams Media
I admire Kraigs enthusiasm to learn and grow in this field, and love that he's seeing growth in his own work just in the last few years. My best to Kraig, and for any brides getting married in Upstate or Western, NY Â – Kraig is your man! Â Thanks for the blog love Kraig!