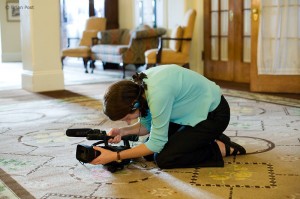 New England Wedding Photographer Brian Post
Avid outdoor enthuasiast and rock climber Brian Post is a celebrated photographer living here in the Mt. Washington Valley. I first met Brian about 8 years ago when he worked for the Mt. Washington Observatory as a Summit Observor. I would do a live call in for RSN TV and Brian would give us the low down on the days forecast. His landscape and scenic work from his time on top of "The Rockpile" is stunning. Back in the 35mm days I would assist Brian on occasion, and I think watching his style with photography had an impression on the way I developed my wedding video business. We've been on the wedding scene for quite some time together and it's always a blast when we have the same bookings. These photos are from Cheryn + Mike's wedding which I have yet to post on, but I do appreciate Brian allowing me to share to you, potential clients, who I am… I never have photos or posts of myself, but you may want to know who I am… don't forget to pop over to Brian's site if you are looking for a photographer!
These photos are from the Mt. Washington Hotel, 8/16/08: Brian captures the "View"Finder… Meg waiting for parent dances to start, Meg out on the Verandah capturing the view.
Â
NH based Wedding Photographer Brian Post catches NH Wedding Videographer Meg Simone.