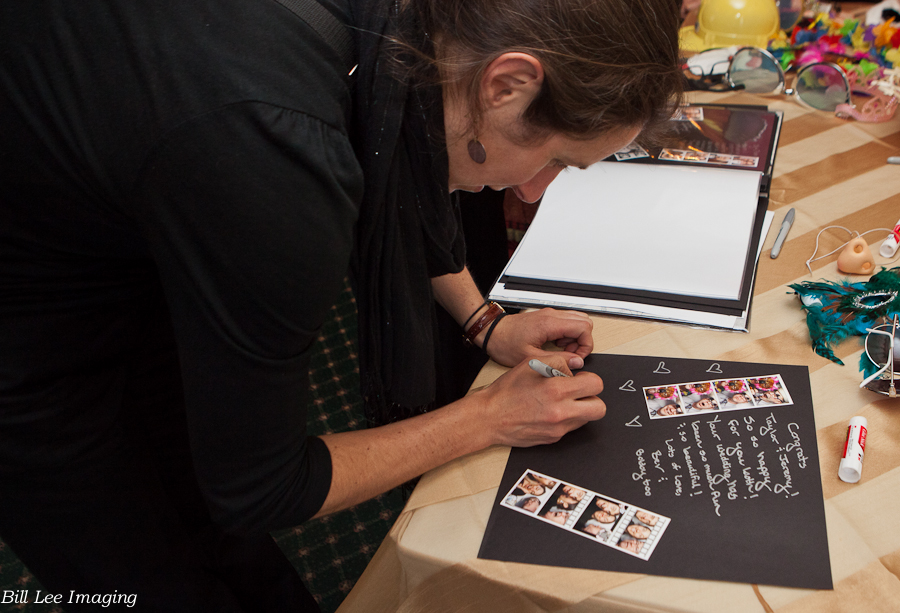 NH Wedding Photo Booth – Mountain Mugshots
Mountain Mugshots is the newest and hottest Photo Booth in New Hampshire and I finally got to test ride it myself. Their classic booth reminded me of the days out on the boardwalk where you jump in spur of the moment and pull the curtain to hope and score a smooth with your other half. Well, I wasn't smootching, but I was having FUN! Everyone was. Kim brought props galore, guests were dying of laughter just watching others go in and out. Kim takes a copy of the photos (it prints two strips) and adds it into the scrapbook she creates right there on site!
Super user friendly; just get in, smile, and press the button…. and lets be honest EASY is good when you have people at a reception or cocktail hour (drink in hand) taking those zany and fun candid shots! It's a digital system that provides instant prints. Guests have the option of black and white or color photos. Prints can be customized with personal messages, logos or graphics to suit your event. The booth will take 4 pictures and allow you time to reposition between photos. Photos are printed within 7 seconds of the last picture ensuring non-stop fun for everyone. MtnMugShots.com or 603-733-7567, based in North Conway, NH just ask for Kim! She is awesome 🙂 Bill Lee Imaging caught us! He is the one on the right in the photo strip below.