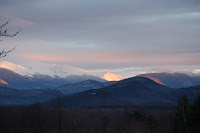 Winter Wedding Venues in the White Mountains

NH Wedding Venues with a view check out The Mount Washington Hotel, The Mountain View Grand, and the Sunset Hill House, all close to skiing, sleighrides, and so much more a winter wedding venue has to offer…. hot chocolate and cozy fireplaces!
Unreal – the sign to Wildcat is burried in the Notch, the snow banks are the biggest I've seen! There is so much snow on the trails, you have to ski it to believe it. I woke this a.m. to the first sign of Mt. Washington poking out of the clouds in WEEKS so I had to take a few shots.
In other news, I'm working on Colin & Sara's wedding video from the White Mountain Hotel, and last weekend we did Hidee and Gil's wedding at the Sunset Hill House in Sugar Hill.