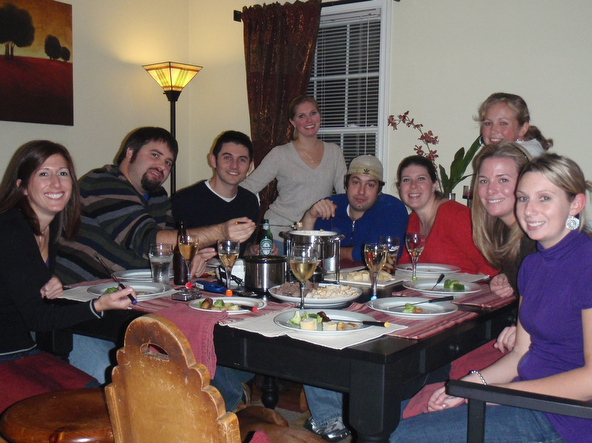 Wedding Film Fondue Party!
You may remember the wedding of  Jill and Dan Harris from this past summer 6/27/09? Well, they had super fun Fondue Party to showcase their wedding film!  Jill wrote that a bunch of people who couldn't make it to the wedding were able to view it at the party. A great reason to get a wedding film, for those who can't be there in person… and an awesome excuse to bust out the Fondue pot. I love fondue!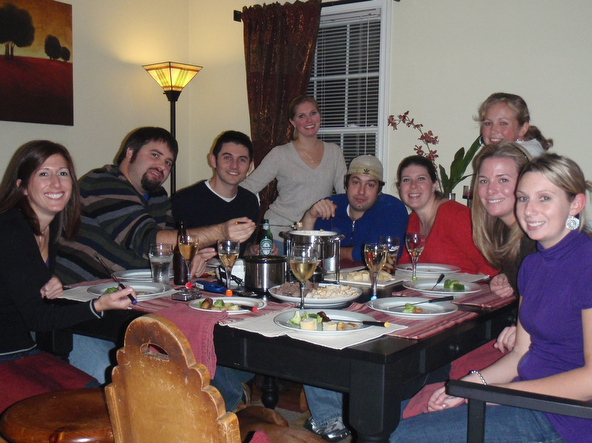 Everyone was incredibly impressed with our video and one of the girls even said it's the best wedding video she's ever seen! (I happen to agree) I love that we have the video to share with everyone. It made such a fun night and I think that the people that missed out on going feel like they were there. I know Marie and Angela loved seeing themselves on camera too. They kept remembering things they had done and then there they were on TV! We had a lot of fun.
One of the couples that came to the wedding had come over previously and watched the video with us and they had said that they wish they had seen our video before their wedding several years ago, cause they definitely would have gotten one done. That's actually what happened to us, we had watched a friends video and realized how awesome it was to do that, and especially watch with friends that were there and knew that we had to get one when we got married. I know if it wasn't for that, Dan wouldn't have thought about it at all!
Thank you so much! You did such an amazing job!