The Adventures of Meg Simone Wedding Films 2016 Map By El's Cards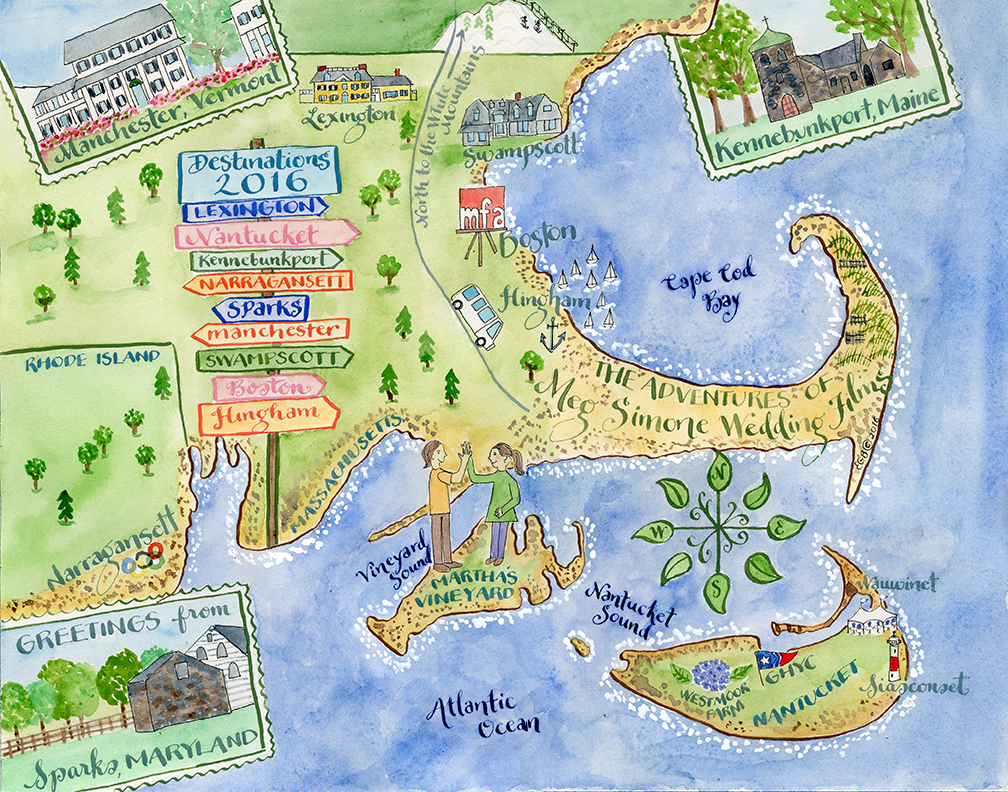 A look back to where our wedding film travels took us in 2016! My annual custom wedding map from El's Cards. If you haven't worked with El or browsed through her many product offerings (I'm obsessed with her Map Note Cards) take a peek at her work and of course wedding invitations, seating charts, and more!
We kicked off the season in Sparks, MD at a beautiful family vineyard with Elle Ellinghaus Designs and Abby Jiu Photography, and wrapped up the 2016 season with Susan Young Photography and Hopple Popple coordinating a cozy ceremony at a private home in Swampscott followed by an exquisitely transformed clear tent at the Eastern Yacht Club in Marblehead, MA.  May through October we covered many miles and logged many hours behind the cameras. The toasts, the laughter, the emotions, the STORIES, my gosh the stories!! I love every wedding story and every couple for a million different reasons.
In terms of an activity that I got to film that was memorable not just for me but every guest involved, I point the compass to Narragansett, RI and the very animated Beach Olympics hosted by #emsaidjess during their three day wedding weekend filmed on location at The Towers, The Dunes Club and on the Beach.  For the craziest dance party, well that would have to be a tie… ironically three were dance parties with  The Sultans – Jerry Bennett Entertainment and one was with the Eric Marshall Band of NYC hanklane.com. As for humor, it was everywhere – roasting, toasting, and just good fun. One favorite line was from a FOB of four girls… as he noted this was his, "last lap around the track" his second daughter to wed at the Equinox Resort in Manchester, VT (thank you Lynda Dandeneau for getting me involved!)
From Sparks to the Coast of Maine… we had two events in Kennebunkport, even a welcome party at THE CLAM SHACK! One event with Audrey and Leslie of Azalea Events at The Big House where we had a former President as an honored guest to the ceremony… and one where despite the deluge of rain, SURPRISE fireworks still went off! The bride and groom were floored! Even in the mist and rain the bride looked stunning right through to the last dance thanks to Joanne of Joya Beauty and Christine Flanagan from The Crown Boutique for hair.
Nantucket always accounts for a few annual adventures and this year didn't disappoint… a 4×4 Jeep ride with Clayton Austin added a fun dimension to this Wauwinet Wedding…. as for the party, in from LA, with a name like DJ Maple Syrup you know he's going to be spinning some mad tracks. Maggie from Nantucket Island Events did more than make sure the Tequila never ran out at Westmoor Farm, if you are having a Nantucket wedding, you need to call Maggie… and Yolanda (for makeup) is such a great bubbly personality, RJ Miller Salon… and Soiree Floral! Dawn, Julie and team created stunning spaces and experiences for the guests to enjoy. We love working with Aisling from ACKtivities too as she seamlessly transitioned close to 200 people through three days of fun at Straight Wharf, Great Harbor Yacht Club and Siasconset Casino. We can't thank Cary Hazelgrove enough for her positivity, humor, artistic eye, and a few carpool rides around Siasconset that weekend.
I know I've just glazed over 1/10th of the amazing wedding professionals we got to work with… from The MFA in Boston with  Gigi de Manio Photography, Spruce Floral and Twist Event Designs, to Hingham where Kate's Table served the best wedding vendor meal I have ever had! I can only imagine what the guests ate! Lexington and The Pierce House with MKD Photography was a first, also working with RI photographer Elizabeth Watsky, RI event planner Michaela Lamb, and RI wedding florist Laurie Marshall.
These are just a few highlights that come to mind as I reflect back on the year. I look forward to what 2017's map will look like!  I already know it will have more Northern New England and I've booked five ferry rides as of writing, so we will be back on ACK and MV for sure! Apologizes in advance if I left you off. Please know it was an honest error. I don't always receive full lists of all wedding professionals contracted for each event.