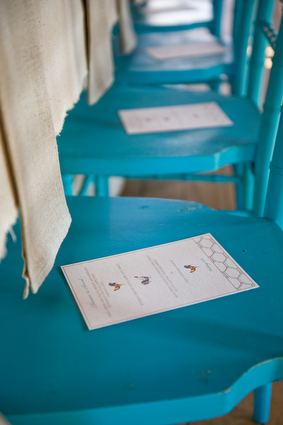 Style Me Pretty Recap: Griffin-vites Custom Watercolor Stationery
I find more and more that couples are really searching for creative ways to customize their wedding stationery sets. They want their personality and style to come through onto the papers – setting the tone for the event, but also conveying to their guests a bit about who they are as a couple. Oftentimes clients get married in such spectacular spots, that incorporating illustrations of the venue, or elements from the surrounding area, are fun ways of giving guests a glimpse into the big day. Customizing a stationery set can be such a blast in that each element (whether it be the save-the-date card, invite, menu, favor tag, thank you note . . . etc.) can tie together, carrying the theme full-circle from start to finish. It's a nice way to keep things consistent and unique at the same time. – Sara, Griffin-vites
Until the Style Me Pretty shoot, I had little exposure to custom wedding invitation work. Now, I'm a huge fan! What Sara of Griffin-vites said is so true, the invitation will show the couples personality and often set the scene for the event. Most of the weddings I do are destination weddings for the guests, weather that's rendezvousing in the mountains at the Mount Washington Resort, sitting lake side at Church Landing, or escaping to the coast, over half of the guest list is usually from out of town, and often other parts of the country. What a great way to visually set the mood for the weekends events. I had no idea custom invitations could be so fun, so personal, and a work of art! Not to mention all the other fun pieces you can have her create – menus, name cards, table numbers, place settings, custom vow books (that was a personal favorite) such a keep sake!
It was fun for me to watch Sara, Dawn and Meagan interact and discuss all the small details, how to arrange them, and what their personal inspiration was. I give such huge props to these girls! So talented! You can hear them talk on their thought process for this design by watching the film,here. All images courtesy of  Brea McDonald Photography.
Shoot Participants: Brea McDonald Photography, Griffin-vites Custom Watercolor Stationery, Soiree Floral, Maine Seasons Events, and Meg Simone Films.