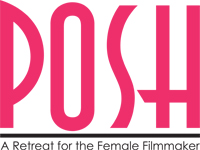 POSH 2010: A Retreat and Workshop for Women Filmmakers and Photographers
I can't believe it's here! POSH, A retreat and workshop for women filmmakers and photographers. 40 women uniting on a Cruise Ship! Does it get much better then this? I guess I can report back AFTER I set sail in the Caribbean considering I've never been on a cruise ship! I've been sailing in the Caribbean off the coast of Panama (last October, view 2 minute film below.) I'm excited to meet people whose work I've been following and to connect with those I've met at other conventions like ReFrame and IN[FOCUS]. Presenters include Kristen* of Bliss* Productions, Tasra Dawson of Dare Dreamer Media and Teen Identity Portraits, Jennifer Moon of Northernlight Filmworks, Reagan Zugelter of Studio Z Films, and Jessica Roman of Ray Roman Films.
Brea McDonald of Brea McDonald Photography and Dawn Kelly of Soiree Floral will lead their New England based workshop on the ship "Inspire. Collaborate. Achieve" and we will have an inspiration shoot on the island of Cocoa Kay!  Brea and Dawn were both vendors for Amanda and Vincent's Nantucket Wedding Film (I would not have filmed that wedding if it wasn't for them!) and they also had me film a Style Me Pretty Inspiration to Reality shoot last November (where does a year go!)
As excited as I am for the actual event, I'm also super jazzed to spend more time with September bride Lisa Seaman McKendry of Colorado based Story Lens Photography! We had never "met" in person, only skyped, but it was because of POSH that we connected (became roommates) and I went out to film her wedding in Colorado!
I have so much to blog about in coming months! I have lots of full length edits to post and more previews so stay tuned over the holidays!