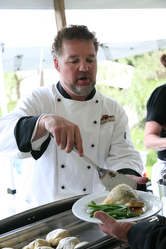 Chef's Market of North Conway
I recently met with Sarah + Aaron for their 8/22 wedding at Great Glen Trails, and they informed me that  Chef's Market was doing their cocktail hour Hors d'Oeuvres! My mouth started to water! This market is chef-owned and operated by Chef Bryant and his wife Patti, and I was lucky enough to be at two weddings last year where they did all the catering. You will have to peak at their website for full menu offerings, but I can attest the food is a fiesta in your mouth of flavors, cooked to perfection, and service with a smile.
I wanted to do a quick blog post about Chef's Market because it's one of those things I think couples could over look when planning a wedding that requires outside catering services. It's not a big 25-50 person operation with a cook house in a strip mall, it's a quaint North Conway Village stop off right on Main Street – you can pop in for lunch, for grab and go dinners, and more! "The Chefs Market is a unique specialty food market and delicatessen offering a selection of fully prepared gourmet dishes, hearty sandwiches, homemade soups and made-to-order salads."  www.ChefsMarketNorthConway.com
Here is a peak at Bryant and Patti at a July 5, 2008 wedding at the Nestlenook Farm.