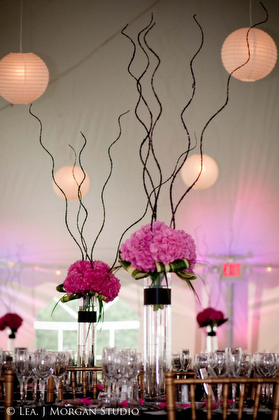 NH Wedding Vendors Lea Morgan Photography and Dutch BW
The third testimonial in this series, here is Kim's candid opinion of her wedding flowers, photographer, and lighting from her wedding at the The Wentworth Inn, Jackson 🙂
Flowers were done by the ever so talented Carrie of Dutch Bloemen Winkle…..enough said!! I had this vision of large centerpieces with dramatic tall branches, she blew it away….even surprised me with sparkly black branches that were an added glitz!
Which leads me to my great photographer Lea Morgan. She was the head of the show for my wedding. What a doll to work with. Very professional, and had a blast with my guests.
Lighting was provided by A&M Daniel out of Amherst, NH. We had the entire tent light up with pink LED's. A small cost for a dramatic effect!
Photos: Lea J. Morgan Studio
DJ: DJ Matt Spofford of White Mountain Productions
Flowers: Dutch Bloemen Winkel
Lighting: A+M Daniel
Cake: Sugarmaker Bakery