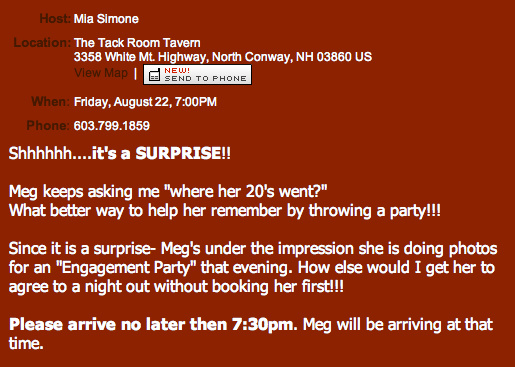 Jackie MacGreggor's Engagement Party = My surprise 30th!
I have never been so Surprised in my LIFE. Talk about having "no clue" I had NO CLUE. I don't specialize in photos but depending on the situation (friend of a friend) I may try to work something out… so when this request (BELOW EMAIL) from a "Jackie McGreggor" came 10 days ago I thought to myself: ah, I hate to pass up the money but it is my 30th and I kind of want to just meet up for dinner or something with the family. So, I actually gave her info of my two local friends Anne and Brian who do photos exclusively, said good luck, thanks for contacting me and that was it…
A few days later "Jackie" emails back saying that Anne is booked and that she would be willing to pay me double if I would do it… as the week went on, I realized I had to fufill to committments on the 22nd that were going to be hard to get out of and seeing that my big 3-0 was turning in to a huge "BUST" in my words, I thought, "why not make some money and celebrate later"…..
Before any "gig" I'm very focused:  "Jackie" had told me photos were very important, they love to scrapbook, so when I arrived I took some nice exterior shots, flowers, the sign, things they could use in the "scrapbook", etc… little did I know I was buying time for the plan and DAVE was running around the back of the building up the stairs to tell everyone I was here… I walked in the Tack Room with my tunnel vision *MUST FIND BRIDE* and went upstairs as she told me to meet her there. When I walked in that room and heard "SURPRISE" and realized was was happening I almost fell over backwards, if "Jackie McGreggor" wasn't there to catch me as I completely collapsed in her arms balling my eyes out I probably would have fallen down the stairs!! I was totally blown out of the water. I couldn't let go of Mia (Jackie) I was so shocked! I never in a million years thought my day would end like this… seeing that some of the people in the room had listened to me bitch and moan earlier in the day (or even an hour or two before) about how ridiculous my day started etc… and in all honesty it was a "Seinfeld Episode" kind of a day… sometimes you have bad days, lame days, great days, and then there are those "Seinfeld" days….
Everything was a shock, a huge surprise, but I think when I was hugging Mia and looked up and saw my friends Thea (drove over from Lake Placid) and Eric (drove from Rutland, VT) I realized "holy cannoli… this really is for me" it wasn't quite registering fast enough seeing a face I had seen either earlier that day or the night before, so the out of town faces I hadn't seen in years made me realize how unbelievable this all was. I can't thank Jackie (Mia) enough… I was in the trenches about turning 30 and this just made the transition all worth it, and from what everyone said 30's really is the new 20's! YESSSSSSSSSSSSSSSSSSSS!
The cake was so COOL made my childhood friend Kim Keller Proulx, ski hill (multiple hills) trees, two rippin' skiers 🙂 *HA HA* Thank you everyone! This was awesome and I will never EVER forget my 30th as long as I live!
Thanks to everyone who made the trip up, down, and over to celebrate. I appreciate all the local and not so local support in making this mile-stone transition 🙂 Meg