Father of the Bride Testimonial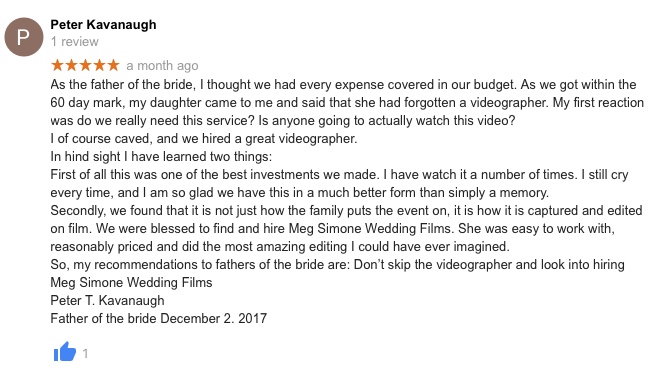 As the father of the bride, I thought we had every expense covered in our budget. As we got within the 60-day mark, my daughter came to me and said that she had forgotten a videographer. My first reaction was do we really need this service? Is anyone going to actually watch this video?
I of course caved, and we hired a great videographer.
In hindsight I have learned two things:
First of all, this was one of the best investments we made. I have watched it a number of times. I still cry every time, and I am so glad we have this in a much better form than simply a memory.
Secondly, we found that it is not just how the family puts the event on, it is how it is captured and edited on film. We were blessed to find and hire Meg Simone Wedding Films. She was easy to work with, reasonably priced and did the most amazing editing I could have ever imagined.
So, my recommendations to fathers of the bride are: Don't skip the videographer and look into hiring Meg Simone Wedding Films.
Peter T. Kavanaugh
Father of the bride December 2. 2017