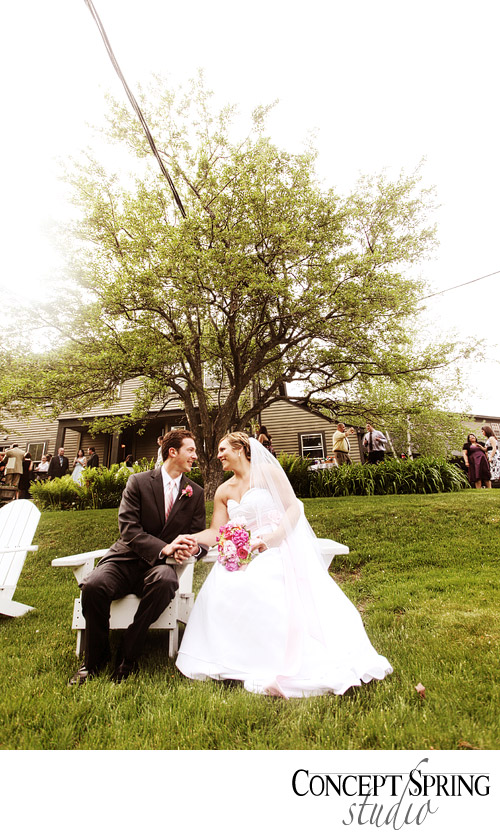 Destination Weddings in Jackson, NH
From Lauren: "We knew we wanted to have a destination wedding, but not one that our family and friends would have to jump on a flight for. We have been to Jackson so many times for weekend getaways, skiing, shopping, and fun. The village is so special to us, we spent our first, third, and fourth dating anniversaries there (February 18th), and on the fourth, Matt proposed to me at Nestlenook Farm, on a snowy night. It was magical, as is Jackson for us. We loved the feel of Whitney's Inn, very warm, with the adirondack style of the Inn. And the Shovel Handle Pub was the perfect venue for our wedding reception-we LOVED the rustic feel of the barn, and knew right away that this was the place for us.
Planning a wedding that is 2 hours away was easy, because every local vendor that we used was extremely flexible, they made themselves available always, and was just so refreshing and willing to accomodate us every step of the way. One aspect that I loved was that there weren't an overwhelming amount of vendors to choose from, so it was less stressful in choosing which vendor to select! And our 107 guests were thrilled to get a weekend away- countless people had told us in the months leading up to our wedding how excited they were to get away for a couple of nights. And we didn't disappoint– so many people have told us that this was the best wedding they have ever been to! That is the ultimate compliment, and solidified our decision. Having our wedding in Jackson, NH was the best decision we could have made! – Lauren Burke, Bride (5/22/10)
Photos: Concept Spring Studio
Flowers and event decor: Jackson based florist Carrie Scribner of Dutch Bloemen Winkel
Film: Meg Simone Films
Cake: White Mountain Cupcakery
Ceremony: Jackson Community Church, Rev Pojen Lee
More stunning images from the day can be seen on Concept Spring Studio's blog.
See the film in the next post below.