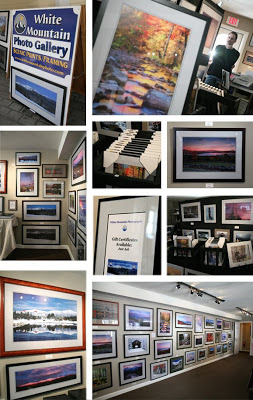 Wedding Gift: White Mountain Photography

Dana Clemons from White Mountain Photography in Jackson, NH recently moved his gallery to the The Snowflake Inn, in Jackson… a perfect place to stop off if you are looking for a wedding gift for any couple who has visited the White Mountains or is getting married IN the White Mtns.
His prints also make great: House Warming Gifts, Anniversary or Birthday Presents, or "just because" they are visually spectacular! He even has pre-framed "grab & go" smaller prints if you are traveling, OR if you are going to be IN Jackson for a wedding and don't want to have to travel with your gift, you can pick one when you arrive. Gift Certificates Available 🙂
Dana's work is primarily shot using transparency film for his fine art photography and using heavier medium format equipment….a rare craft because of digital these days, and a skill to be commended.
With complete control over the entire process, he produces a fine art print using only quality archival ink and paper, tastefully framed, always under UV glass. Prints that will last a lifetime.
The complete collection of prints can be seen at the gallery. Thursday-Saturday, and Monday. Visitors are always welcome to come browse. You might want to call him first at 603-383-4300, as he might be out pursuing his passion!

Photos by Meg Simone. Info from White Mountain Photography website with permission from Dana Clemons.