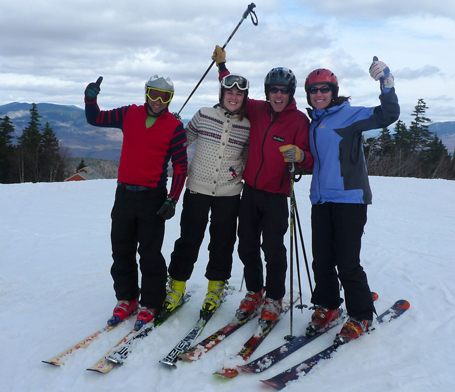 Adventure: Winter Weddings at Ski Resorts
On snow weddings at ski resorts are often overlooked even by ski enthusiasts. I think the assumption is that your guests won't have fun if they don't love winter. If you love skiing even half as much as I do, I think you will agree that the following winter activities can be enjoyed by many people.
Skiing during the day (Nordic or Alpine), indulging in a spa treatment, afternoon tea and cookies, hot chocolate or hot toddies by the roaring fireplace, après in the outdoor hot tub, excuses to buy après ski clothes, and a fun new down puff! Lots of candlelight and romance, snowflakes softly falling, possible fresh powder, shopping at the resorts boutique shops, cozying up with family and games in big comfy couches and cuddly warm blankets…. The details and intimate nature of a winter wedding, in my opinion has a completely different feel then a summer wedding.
Some of my top picks for on snow winter weddings in the North East would be:
* Sunday River (where we went skiing on Easter, below), a huge mountain, endless terrain (Nordic and Alpine), a variety of lodging accommodiations, food, and après.
* Wildcat Mountain in Pinkham Notch for a more outdoor rustic wedding experience. Guests can stay at the AMC.
*  Bretton Woods and the Omni Mount Washington Hotel are already home to a handful of winter weddings. Nordic skiing, tubing, the Canopy Tour, new spa, outdoor pool, kids center. You truly can park your car on Friday and not get back in it until you are ready to leave.
* Cranmore Mountian, right in the center of North Conway is an easy location for people of all ages and abilities to get to a wedding. They have the Meister Hut on top for those who don't ski, and it is a great place to preform the ceremony if it's really cold out.
To all ski enthusiasts out there who want to get married at a ski resort… we won't just film your wedding, we will film you having fun on snow. I've been filming on snow since 1996 with White Mountains TV 16, and I can't wait to film your celebration!