2018 Wedding "Map" by El's Cards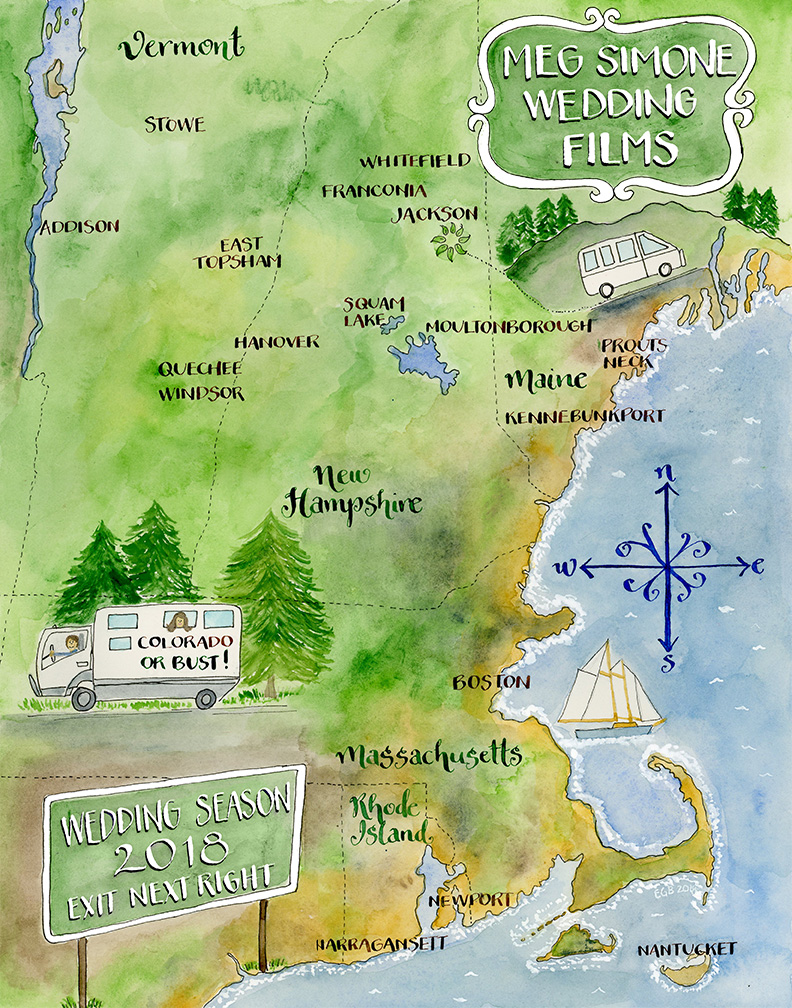 I can't believe it's already mid-February 2019! Time to reflect on our adventurous 2018! A huge thanks to El's Cards for my annual "map"! It was quite a year that kicked off with an on-mountain wedding in Steamboat Springs, Colorado and ended with a 60th Birthday Bash at Castle Hill in Newport, RI. I am so grateful to all those who afforded us the opportunity to preserve the memory of their marriage and weekend festivities! Some complete with beach games and parachuting ring bearers!
Blanca the Sportsmobile was our partner for many 2018 events, and our new camper "Temerity" helped us along in Colorado, Narragansett and more!
I purchased Blanca the Sportsmobile through a serendipitous coast to coast "craigslist success story" transaction in 2009, and she's been making the wedding rounds with us ever since. In fact, we love that the previous owner Luann follows our wedding adventures in Blanca "in-season" and our ski adventures with her in the winter.
Blanca is part of the team, she allows us to have reliable power, storage, food, and other essentials when on the job. Since a lot of our weddings are tented, in fields, at private homes, it's nice to have a locker room on wheels. If the weather changes, we can reach for the Patagonia Nano Air, if it's hotter than blazes and I need water (now!) and there is no appropriate place to sneak off to fill our water bottles, Blanca comes to the rescue! Keeping us comfortable, hydrated and fed, we love our wedding adventures in Blanca.
A big "Huckins Heart" to  El's Cards for this year's design. If you haven't worked with El or browsed through her many product offerings (I'm obsessed with her Map Note Cards) take a peek at her work and of course wedding invitations, seating charts, and more! She just celebrated her 20th Anniversary in January and we were lucky enough to create her 20 Year celebration video – a must watch, here. El & Bob are adorable ❤️
A quick shout out to some of the awesome Friend-ors we had the chance to adventure with this year!  Let's do it again in 2019 🙂
Photography:
Brea McDonald Photography
Anne Skidmore Photography
From Parris with Love
Elizabeth Watskey
The Light + Color
Snap Weddings!
David Murray
Meg Heriot
Corey Kopischke Photography
Heather Bohm-Tallman Photography / HBT Photo
Stephanie Wales Creative Imagery
Garone Photography
Stephy Hilmer
Event Design, Management, Planning:
Maggie from Nantucket Island Events
Melanie of Blissful Beginnings
Nancy from NJOY Events
One Fine Day Steamboat
Jaclyn Watson Events
Beautiful Days Events
Hurlburt Designs
Floral Design & Decor:
Soiree Floral
Apotheca Flowers
Winstons Flowers
Griffin & Griffin Lighting
Details Event Staging
Blomma Flicka Flowers
Exquisite Events (Newport, RI)
Nicole Mower Weddings & Events
Stoneblossom Floral and Event Design
Linens & Rentals Peterson Party Center & Peak Event Services
Sperry Tents Seacoast 
Stephanie Pilk & Snug Harbor
Food:
Lisa at Cakes for all Seasons
Jodi's Cakes
Confectionery Designs * Must stop by their shop and try their doughnuts too!
Churchill Events
Hair & Makeup:
Joya Beauty
Yolanda at YG Makeup
RJ Miller Salon
Invites & Paper Suites:
El's Cards
Happy Menocal
Gus & Ruby Letterpress
Paperless Post
Dress:
Ceremony Boston
Pronovias NYC
Entertainment:
Kahootz Band
Them Apples
East Coast Soul 
The Sugarbabies Inc
Wilson Stevens Productions
Murray Hill Talent
The Sultans
Rick Express
The Hudson Project
Welcome Party Entertainment by The Cameroons
Locations:
Steamboat Mountain Resort & The Steamboat Base Club, CO
The Dunes Club in Narragansett, RI
The Wentworth Inn, Jackson NH
Castle Hill Inn Newport, RI
Bald Peak Colony Club, NH
An Affair by the Lake, VT
Boston Public Library
Mountain View Grand
The Fairmont Copley
Toad Hill Farm, NH
Galusha Lodge, VT
Quchee Club,VT
Prouts Neck
Private Homes in Stowe & West Windsor, VT, Squam Lake, NH and Kennebunkport, ME.
Above are only a few vendors from 2018, there are SO many more I know I worked with. I apologize in advance if I left you out of this post. Please know it was an honest error. I don't always receive full lists of all wedding professionals contracted for each event.