2017 Wedding "Map" by El's Cards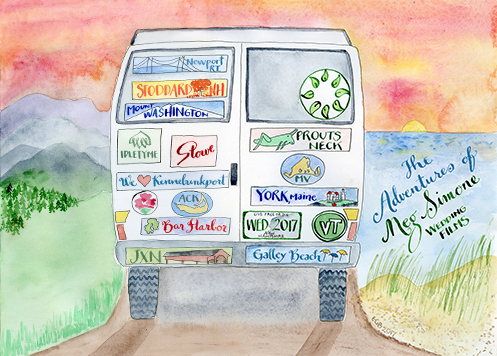 I can't believe 2017 has come and gone and we are almost into March 2018! A huge thanks to El's Cards for my annual "map" in bumper stickers! It was quite a year! I am so grateful to all those who afforded us the opportunity to preserve the memory of their marriage and weekend celebration.
Not all events are fully represented as we had five weddings on Nantucket this year, and couldn't quite fit all locations in stickers on the back of Blanca the Sportsmobile! With two weddings in Stowe, VT, I chose Idletyme, home to one rehearsal dinner, and Stowe Mountain, the site of another wedding later in the fall.
I purchased Blanca the Sportsmobile through a serendipitous coast to coast "craigslist success story" transaction in 2009, and she's been making the wedding rounds with us ever since. In fact, we love that the previous owner Luann follows our wedding adventures in Blanca "in-season" and our ski adventures with her in the winter.
When El and I were talking about this years "map" the idea of the bumper stickers came up… I didn't think much of it at the time, but as the winter approached, and a big giant goal that I had set in motion with Dave last year took shape, we took ownership of a new "camper" we aptly named "Temerity."  Seeing Blanca essentially "drive off into the sunset" in this year's card is bittersweet as we won't be taking her on any more offseason adventures, but she will remain the leader of the pack for all our New England weddings!
Blanca is part of the team, she allows us to have reliable power, storage, food, and other essentials when on the job. Since a lot of our weddings are tented, in fields, at private homes, it's nice to have a locker room on wheels. If the weather changes, we can reach for the Patagonia Nano Air, if it's hotter than blazes and I need water (now!) and there is no appropriate place to sneak off to fill our water bottles, Blanca comes to the rescue! Keeping us comfortable, hydrated and fed, we love our wedding adventures in Blanca.
If you want to follow the adventures of Temerity – for now, I've posted some photos on Instagram under my personal account @megsimone.
A shout out to El's Cards. If you haven't worked with El or browsed through her many product offerings (I'm obsessed with her Map Note Cards) take a peek at her work and of course wedding invitations, seating charts, and more!
A quick shout out to some of the awesome Friend-ors we had the chance to adventure with this year!  Let's do it again in 2018 🙂
Brea McDonald Photography
Joe Mikos Photography
K. Lenox Photography
Michelle Gardella Photography 
Nadra Photography
Katie Kaizer Photography
Barbara Clarke Photography
Jess Jolin Photography
Carly Michelle
Steve DePino
Dreamlove Photography
Clement and West
Kathleen of Landwehrle Photo VT
Aisling Glynn of ACKtivities
KG Event Design
Maggie and Maureen from Nantucket Island Events
Soiree Floral
Heather Cuzzi of Cairn Events
Lindsey Hamilton Designs
Nicole Mower Weddings & Events
Jennifer of Memorable Events
Flowers on Chestnut
Winstons Flowers
Wildfolk Floral Studio
Azalea Events
Minka Flowers
Hurlbutt Designs
Ivy and Aster Floral Design
Details Event Staging
Exquisite Events (Newport, RI)
Stoneblossom Floral and Event Design
Pink Tie Productions
Tea Lane Farm – Martha's Vineyard
Meredith Clayton Floral
Flowers by Naturally Elegant Designs
Catering by The Porch Too
The Event Light Pros
Lisa at Cakes for all Seasons
Jodi's Cakes
Confectionery Designs * Must stop by their shop and try their doughnuts too!
Catering and S'mores Party by Dandelion Catering Co.
Nut-Free Wedding Cake by The Hippie Chick Bakery 
Hair and Make Up by Sean Nicole Salon 
Tent Rental from Monadnock Tent and Event 
Flair Bridesmaid in Boston
Sperry Tents Seacoast 
Linens & Rentals Peterson Party Center & Peak Event Services
Hair & Makeup  Bei Capelli
Invites & Paper Suite Gus & Ruby Letterpress
The Crown Boutique Studio
Yolanda at YG Makeup
RJ Miller Salon
Ceremony Boston
The Dukes of Circuit Ave.  – Entertainment
Billy Voss Entertainment
Kahootz Band
Them Apples
East Coast Soul 
The Sugarbabies Inc
Wilson Stevens Productions
Murray Hill Talent
The Sultans
Rick Express
The McLean Avenue Band
Castle Hill Inn Newport, RI
Omni Mount Washington Resort mountwashingtonresort.com
Bar Harbor Club 
Coda
The Farm Home
Comfort Farm
The Wentworth Inn, Jackson NH
Prouts Neck Country Club
Lakefalls Lodge
Nantucket Tent
Above are a few vendors that come to mind as I reflect back on the year, there are SO many more I know I worked with, but as I sit here in Big Sky, Montana typing away, the setting sun is calling me to the hot tub for Apres Ski! I look forward to what 2018's map will look like!   Apologizes in advance if I left you out of this email. Please know it was an honest error. I don't always receive full lists of all wedding professionals contracted for each event.